Posts: 4
Joined: Wed Mar 20, 2013 3:10 pm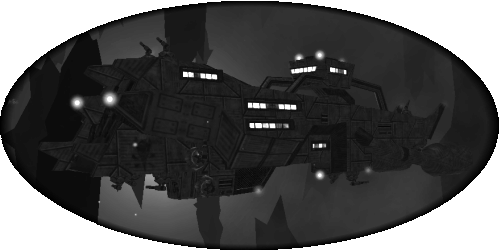 Liberty Rogue "Scylla" destroyer
Queen Anne's Revenge
is the scourge of the Sirius System; targeting tradelanes and merchant vessels indiscriminately. She is reknown for her preference to ram headlong into her targets - guns ablaze. The Anne is covered in thick armour, disallowing her to carry much cargo. However, this powerful armour together with its relatively sleek profile and cruiser-classed weaponry allows the Anne to target warships much larger than herself, including cruisers and battlecruisers. The ship can easily be recognised by her unusual profile and distinct red lights.
"It suddenly appeared from the clouds, having circumvented our scanners. From our starboard side we could make out a large red sun - emblazoned upon a massive metal hull - surrounded by multiple blinding red lights. It steamed towards us, ramming our cargo-train. We would've been split in two, if not for our shields. Its guns began firing. Red flashes blinded our gunnery crews and dropped our shields. Suddenly the attack ceased and a comm-signal came through. It called for the surrender of a part of our cargo, and a not-too-unreasonable sum of credits. Naturally we accepted this offer, after which the ship pulled its bowsection from our side. It soon vanished into the clouds as quickly as it had appeared - its bright red lights dying out in the deep coverage of the cloudfield."

-Anonymous Liberty Shipping Captain
[youtube]http://www.youtube.com/watch?v=SmtEQ6EA83s[/youtube]
Last edited by
Jager
on Thu Mar 28, 2013 2:17 pm, edited 1 time in total.
Queen Anne's Revenge